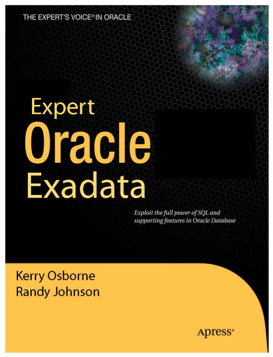 Here's some white Exaddata text
Well, I guess it's official. A couple of weeks ago I committed to write an Exadata book for Apress, along with my intrepid co-author Randy Johnson. For those of you who don't know Randy, he's a very experienced Oracle Guy with a wealth of knowledge, particularly around RAC. I think the two of us make a pretty good team – making up for each others weaknesses (oh wait, I should say we have "Complimentary Skill Sets" – yeah that sounds better).
Anyway, it turns out that writing a book is a lot of work! The way Tom Kyte turns them out I thought it must be pretty easy, but I've always been a little overconfident. So I'm starting to realize that I may not have time to do as many blog posts as I might like. But I must say that I am really excited about the subject matter! So I think it will be worth the effort. By the way, that's not the official cover art (or even the official title as far as I know). I just hacked that together with a Adobe Illustrator. 😉
As I have said many times, I think the Exadata storage software will usher in a whole new era in relational databases. Not just for Oracle, because you know the other guys will be trying to follow in their footsteps. But I think Oracle is miles ahead at this point, and they own their own hardware platform. Oracle claims that it has been their most successful product launch ever and I believe it. They are starting to pop up like weeds. It will be very interesting to see what the future holds for this platform. To be honest, I think we're just seeing the tip of the iceberg at this point. Anyway, I appreciate the guys at Apress having the faith in us to take on this project. I hope we don't disappoint them (I don't think we will).